Many cities around the world have adopted fare zones to promote transit usage in the inner-city, or for more successful networks, to encourage users to travel outside of peak times. Calgary has recently made a major step towards implementing fare zones, and this was the announcement of coming electronic fare technology. It isn't quite what we had hoped for, with no dedicated card system or tap reader (that has been announced), but electronic fares are a critical aspect of a zone-based system. Without electronic fares, a zone-based system become difficult to enforce (especially due to our honour-based system), difficult to understand, and difficult to implement. So, now that Calgary is on the path to electronic fares, what could a future zone-based system hold for us?
Models
Firstly, we want to show you what some different options in use around the world are. There are advantages and drawbacks to each, so it is important to get a good picture of what might work in Calgary.
Downtown-focused:
There are several different types of zone-based fare models in use around the world. One of the more popular options are concentric rings around the urban core. This model works particularly well for cities with a very high volumes of commuters heading towards a central business district. This is what cities like London use, pictured below.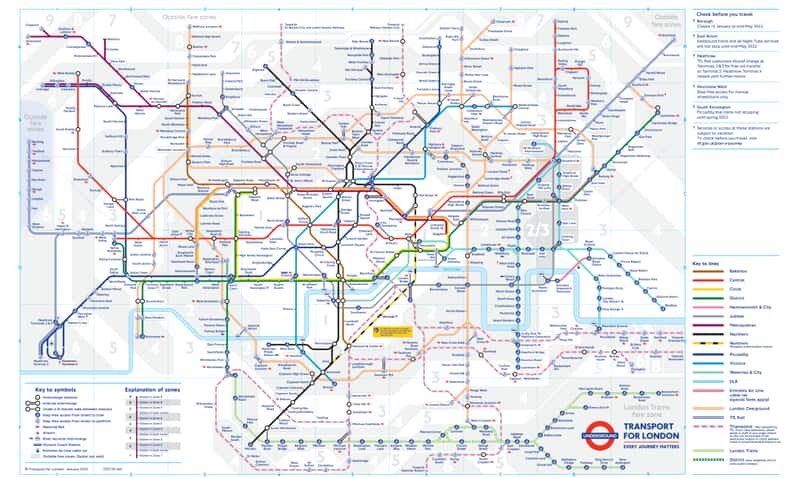 This type of system works by charging users depending on the zone they are travelling from, and the number of zones they need to travel through to get to their destination. It encourages cross-town travel while charging premiums for users trying to access the centre city from outlying suburbs. Though this system is simple to understand and enforce, it also unfairly penalizes individuals who need to commute across zones, even if only travelling one stop, while reducing the cost of travel for individuals going across town.
Multi-zone
Some urban areas like Auckland have introduced multi-zone fares which do not focus around the urban core, but rather the destination of the rider. This system is unique from the London system, as it is not concentric around an urban core. Thus crosstown users are more equitably charged compared to users heading towards the downtown. Auckland, as you can see, is a very spread out area, encompassing many suburbs.
What is interesting about the Auckland system is that, in order to avoid penalizing individuals travelling two stops but across zones, "combined zones" exist. These are indicated by hashes on the map. These areas are considered to be part of two zones, and do not penalize users who travel from either of the adjacent zones to that centre. This model may work well in Calgary near community destinations, such as Chinook.
Disadvantages of this model include a relative jump in complexity for users, with the need to determine where their route will take them, and the need to balance crosstown routes so that trips avoid travel through multiple zones.
The Auckland transport network charges passengers who travel on local buses by zone, unlike London.
Distance based fare:
Arguably the most equitable to all customers, yet the most complicated to implement, is the distance based fare. In use in Washington D.C. and soon to come to Vancouver, these types of fares are fairly self-explanatory, charging users based on the distance they travel. In both Vancouver and Washington, extensive urban rail networks exist, allowing the systems to remain somewhat profitable while applying distance-based fares only to rail rapid transit. Again, in Calgary, if this was to be the case, it would make sense to implement this system across BRT routes as well.
However, as mentioned, this type of system requires a substantial investment in fare technology that Calgary has yet to make. All users would have to convert to a card or mobile phone type system. Users without one of those two options would have no way to pay. In Vancouver, cards with magnetic strips are given to customers at all stations (or customers own their own Compass card). Calgary is nowhere near this level of investment. Further, Calgary will need to implement a much more robust GPS network to indicate where customers are along rapid transit lines, and would need to implement card readers at all LRT and BRT stations.
Buses
In most areas of the world, local buses operate in a zoneless fashion. Bus riders are typically charged a standard fee and are able to travel anywhere by bus within a given time frame. This would be similar to what Calgary currently has. The idea behind zoneless bus transport is to have commuters travel to rapid transit links where they are charged based on zone travel. In Calgary, the nature of our network would likely encourage the use of zone-based fares on BRT lines while retaining flat-fare rates across local bus service.
As Calgary grows in fare technology options, it may be possible to introduce a form of zone-based fares to local services as well, as is the case in Auckland. However, for this to be a reality, card readers would need to be implemented on buses, and all users would need to be encouraged to convert to a card based system.
Calgary
Overall, though many good options exist, few are viable in Calgary given our technological constraints. We think the Auckland model may work well in Calgary, however, with respect to zoning and ticketing. The zoning of Auckland allows for users in a specific zone to use public transit to access community services/local activity hubs without being penalized, while retaining some form of distance based fare. Because of our lack of card reading system however, local bus services would have to remain at a flat fare.
To enforce these types of fares, we envision a system whereby customers purchase tickets indicating the trip origin (or it is indicated on their mobile device), and officers can check to see if the appropriate fare has been paid for based on the current location of the rider. Unfortunately, and again a limitation of Calgary's honour-based system, there is no way of determining if a customer has actually stayed within the zones they have paid for, or if they have exceeded that location.
It will be important in the future to determine if this lowered enforceability is improved through increased transit usage by inner-city residents and increased profit margins on users travelling from suburbs. Take a look at the map below to see how we envision a zone-based fare system in Calgary.
As you can see from our map, we envision multiple zones dependent on the density of each one. Several multi-zone transit areas exist, including Westhills, Chinook, Dalhousie, Rocky View YMCA, Centre St. and 16th Ave, and the Banff Trail-Lions Park area. We have also included a special airport zone, highlighted in red. Though this map is based primarily on geographic features and major roads, it may make more sense to divide the city based on transit nodes. With the exception of Chinook, we have tried to locate most major activity centres in the middle of zones, to reduce the likelihood an individual will be penalized for travelling a short distance, but through multiple zones. Alternatively, a "blur" area could be created, where the overlapping areas of zones are much larger than  portrayed. The intent of this map is to give you an idea of what a zone-based system might look like in Calgary.